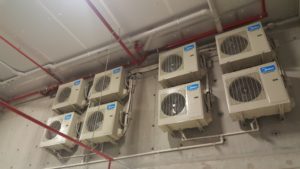 Facilities Cooling and Heating is one of the premier providers of split AC installation, repair, maintenance services in Campbellfield & Split System installation Melbourne. From equipment selection and on-site installation to upgrades, repairs, and maintenance, we provide guidance on every aspect of air conditioning. We are fanatical about offering energy efficient, reliable, eco-friendly air conditioning system that provides a cool and comfortable environment to the occupants. With our expertise and resources, we are able to evaluate your needs and supply the system that meets your expectation. We work with leading brands like Daikin & Rinnai to offer the best AC Split System Service Melbourne along with ducted air conditioning & heater service installation & repairs to tailor your cooling and heating requirements.
Split System Installation Melbourne
With many years of experience in the industry, we have the skills and knowledge to install a split AC system of all makes and models.  Our qualified engineers listen to your needs, carry out a full survey of your property and advise you on the best options for an efficient and economic system. Our hands-on experience combined with an innovative approach guarantees you a reliable installation service.
Split System AC Repair Melbourne
If you ignore common air conditioning problems such as clogged filter, refrigerant leaks, or clogged drain line, it may lead to costly repairs. When you rely on us for AC repair, our technicians will inspect every component of your air conditioning system to determine the root cause of the problem. Once we've figured out the issue, we take the necessary steps to fix it right away.
Split AC Service & Maintenance Melbourne
A well-looked after and properly maintained air conditioning system blows out clean and fresh air. It helps to maintain a comfortable temperature in the workplace and at home. Our Split System Service Melbourne is carried out by industry experts in compliance with manufacturer's specifications, ensuring that your AC unit delivers optimal performance.
Why Choose Us?
We help with choosing the right equipment for your space.

FCH are so versatile and work around your schedules.

We carry out installation, repair, and service to the industry standard.

FCH provide be spoke service to meet your exact needs.

We provide quick and prompt services at affordable prices.
If you would like to speak to us about air conditioning installation Melbourne, service and Split System Repairs Melbourne, you can reach us by calling 03 9357 5768 or fill in the contact form. We will get back to you shortly.