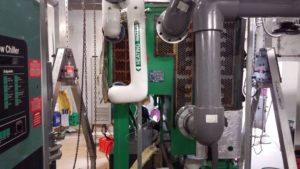 Evaporative coolers are the most common alternative to conventional air conditioning systems. They are the perfect way to cool homes and offices in dry climates. If you use or require an evaporative cooling system, you can rely on Facility Cooling & Heating. Our Evaporative Cooling Service Melbourne, AC technicians determine your needs and help you choose the right evaporative cooler for your property. In addition, we also provide air conditioning installation, repair, and scheduled maintenance services in Campbellfield & across Melbourne, keeping your system working in its optimal condition.
How Does Evaporative Cooler Work?
Unlike traditional AC units, these evaporative coolers work in a different way. Rather than using a refrigerant to cool air, they operate by circulating water from the reservoir on to the cooling pad, which in turn gets wet. Using the moistened pad, a fan draws air from outside the unit. When the air passes through the pad, it gets cooled by evaporation. By adjusting the unit, you can maintain the preferred humidity level in the room.
How Can We Help You With Installing And Repairing Evaporative Coolers?
Here at Facility Cooling & Heating, we have experts who can design and install perfect evaporative cooler for your home or office. During installation, we pay close attention to detail to ensure that drain pipes, electrical wiring and connections are installed properly. In addition to installation, our highly trained technicians also provide repair, maintenance Evaporative Cooling Service Melbourne at reasonable prices. We adopt deep-analysis approach to troubleshoot the root cause of the problem and fix it immediately. We work with the objective of having your evaporative cooling system running efficiently as quickly as possible.
Advantages of Evaporative Cooling System:
Self-contained units, less expensive than traditional AC units

Small wiring network that makes it easier to install

Energy efficient leading to lower running cost

Ideal for increasing humidity in dry environments

Eco-friendly and does not release any harmful gases.

Flow through ventilation provides fresh air
Whether you are looking for Evaporative Cooling installation Melbourne to install a new evaporative cooling unit or need a professional team to make Evaporative Cooler Repair Melbourne for your existing cooler, give us a call now at 03 9357 5768. We are your one-stop shop for supply, installation, repair and maintenance services. We offer the leading brands like Daikin air conditioner & Rinnai hot water to provide the best split system AC service along with ducted air conditioning & heater service & repairs to tailor your cooling and heating requirements in Melbourne.