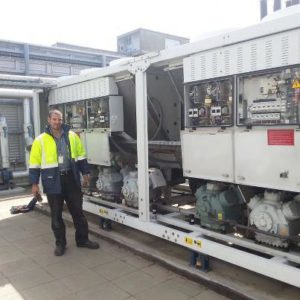 Ducted AC units are the most practical choice for heating and cooling large areas that are beyond the reach of split system AC units. They are perfect for homes, offices, schools, restaurants and other large spaces that require even distribution of air. As one of the leading air conditioning specialists in Campbellfield & across Melbourne Region, we provide ducted air conditioning installation, repair, and maintenance services to commercial and residential customers. As a part of our air conditioning provisions, we work closely with you to design a ducted air con system that suits your specific needs. We also offer Ducted Air Conditioning Melbourne, ducted heater service & repairs, Daikin air conditioner, Rinnai hot water installation, evaporative cooling service, installation & repairs to tailor your cooling and heating requirements.
Ducted Aircon Installation:
Your ducted air conditioning unit is designed to provide a comfortable temperature throughout your facility at the touch of a button. To get the most out of your system, it is important to have it installed according to the manufacturer's specification. Avoid regular breaks down with proper installation should. It helps to decrease the repair cost and energy bills. We have industry experts who help you with installing AC units, improving its efficiency and saving energy bills.
Ducted Aircon Repair:
The ducted air conditioning unit includes several components, and there are many issues that affect its performance. Even a small problem with the pump, radiator, thermostat, boiler, refrigerant, electrical circuit or fuel source can make the system to shut down. If you notice any problem with your system, you can approach our certified technicians who will assess the problem and fix it quickly.
Ducted Aircon Maintenance:
We offer regular and personalized maintenance contracts to all air conditioning units. Our preventative maintenance package includes regular inspection and thorough cleaning of the system which minimize the likelihood of future faults. Our maintenance services are geared towards improving the efficiency of your ducted unit and extending its lifetime.
Benefits of Ducted Air Conditioning Unit:  
Most of the ducted AC units come with inverter ducted technology.

They are quieter to run and economical to operate.

Stabilized output can be easily achieved.

They boast superior features and advanced options.
Are you looking for someone who can inspect, diagnose and repair your ducted heating and cooling system? Call 03 9357 5768 today!