When it comes to installing, replacing or repairing your heating and cooling system, Ringwood locals can turn to our certified and highly experienced technicians here at Facilities Cooling and Heating for help. As we are an Australian owned and locally operated company based right here in Melbourne, you can trust the advice and assistance you receive from our team will be accurate and helpful. Rest assured that our number one priority is to ensure that your heating and cooling systems are working properly throughout your space, giving you a comfortable space to live and work in throughout those long winter and summers months.
Air Conditioning Services In Ringwood
Let the professionals here at Facilities Cooling and Heating help you with all our air conditioning installation and repair services. Since 2015, our experts have worked across all kinds of residential, commercial and industrial sites, helping provide the best possible advice and assistance for all kinds of air-con units and systems. If you're looking to install a new air conditioning unit, Ringwood locals can trust our technicians will find the right system that suits your space and budget. Whether you're looking for a ducted air conditioner, evaporative cooler, Daikin air conditioner, adiabatic cooler or any other system, we can supply and install it for you.
Split System Installation For Ringwood Locals
Looking to install a great quality solution that can provide you with both heating and cooling options for your space? At Facilities Cooling and Heating our split system installation team can provide Ringwood locals and businesses owners with the perfect solution that will keep them warm in winter and cool during summer. From its energy efficient, reliability and eco-friendly capabilities, we know you will not be disappointed after having a split system unit installed into your space! If you're looking for repair and maintenance assistance for your system, Facilities Cooling and Heating offers 6 year warranty across all our units should anything go wrong in the future.
Other Services Available In Ringwood
Rest assured that when you come to Facilities Cooling and Heating for help with your systems, our friendly and reliable technicians will ensure that your heating and cooling systems are running smoothly once more. For more information on any of our services, please contact our team today for a free quote.
Ringwood Map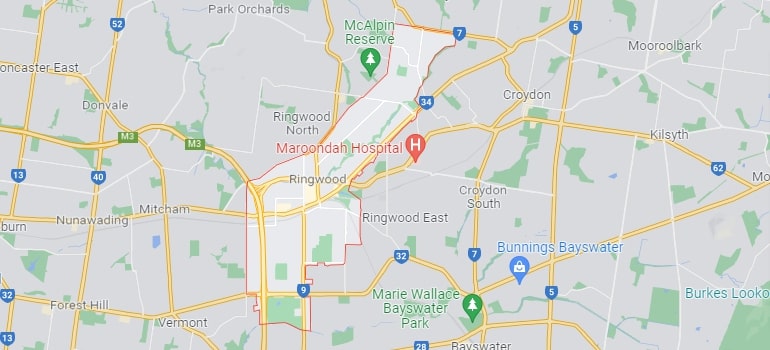 Areas We Serve