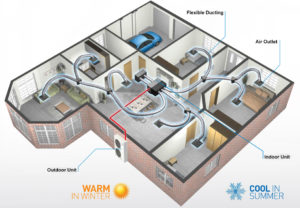 Facilities Cooling & Heating has been providing full-fledged heating & cooling solutions to businesses and households across Bundoora and nearby suburbs. With an approach to providing a friendly, transparent service, we offer solutions based on the individual requirements of our customers. From replacement & installation to repair & maintenance, we manage all projects with meticulous attention to detail. Whether you need split or ducted air conditioning installation, our team has been dedicated to delivering accredited services at competitive prices.
Split AC System Bundoora :
Whether it's installing a Daikin air conditioner or a customised unit, you can rest assured that our experienced technicians will carry out split system installation to the industry standard. We will evaluate your cooling needs and advise you on the right system for you. With years of experience in the industry, we have developed our knowledge to handle split system repair as well as split system service in an impressive manner.
Evaporative Cooler Bundoora :
Evaporative coolers are more energy efficient and are perfect for maintaining a temperature controlled environment to ensure employee comfort. We not only specialise in traditional A/C units but are also trained to handle evaporative cooling installation and maintenance. We will evaluate your facility and suggest you the best cooler that suits your cooling requirements. Our experts work on the most brands and can help you with evaporative cooler repair and service.
Ducted Heating System Bundoora :
If you have a problem with your existing unit and are interested in a brand new heater installation, we have got you covered. Our heating experts will help you with the new installation or repair needed to get you warm again.
We are aware that when your air conditioning or heating system is not working properly, it can cause discomfort for you. If you require emergency service and looking for the most cost-effective heating & cooling solution in Bundoora, feel free to call our experts at 03 9357 5768.