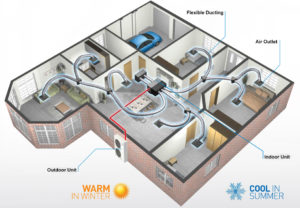 Facilities Cooling & Heating has been providing fast, dependable air conditioning and heating solutions to commercial and residential clients across Bulleen and nearby suburbs. With a commitment to ensure the comfort of our clients all year round, we provide split and ducted air conditioning installation, repair and maintenance at competitive prices. Apart from Daikin Air Conditioner, we also stock and supply a huge range of innovative heating & cooling products that can be tailored to the specific needs of our customers.
We Specialise In:
Split System Bulleen:
Our split system installation begins with discussing your needs and expectations. Gaining a great understanding of your requirement and other relevant information, we will suggest you the right air conditioning unit for your property. Whatever your needs, whether you are looking for split system repairs or split system service, we can help.
Evaporative Coolers Bulleen:
People living in a humid climate can take advantage of our evaporative cooling installation service. Evaporative coolers are ideal for those who are looking for a cost-effective way to stay comfortable in summer. With extensive experience in the industry, we have helped a number of clients with their evaporative cooling repair and annual maintenance needs. Our evaporative cooler services are carried out to the industry standards to ensure their peak performance all through its lifetime.
Heating Systems Bulleen :
Most people will forget about their heating systems until the temperature drops down to a great extent. Whether you have any specific problem with your unit or looking for heating system service, we can help. Our experts are trained to provide heating system repair and keep your unit working fine throughout its lifetime. In addition to heating system installation, repair, and maintenance, we also perform Rinnai Hot Water installation, thus allowing you to enjoy an unlimited flow of hot water.
Not sure what's the best heating and cooling unit for you? Contact our experts at 03 9357 5768. We will evaluate your needs and suggest the right products for you. Let's work together to make your indoor environment comfortable and healthy.