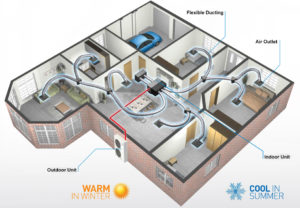 To set a comfortable environment inside your home or business, you need an air conditioning system that is customised to your needs. Here at Facilities Cooling & Heating, we have been providing ductless & ducted air conditioning installation, repairs, and maintenance service for our customers in Blackburn & across Melbourne. With in-depth knowledge in the heating & cooling industry, we can design and build cooling systems that are tailored to your specific needs.
What Are We Specialised In?
Split A/C System Blackburn:
We are dedicated to offering comprehensive split system installation, repair and maintenance services for all makes and models, including Daikin Air Conditioner system. Our A/C mechanics are equipped to troubleshoot split system repairs in a short span of time. When it comes to split system service, we strictly adhere to manufacturer recommended schedules to ensure utmost efficiency of your unit.
Evaporative Cooler Blackburn:
We have highly trained specialists who can handle evaporative cooling installation, service, and repairs. At Facilities Cooling & Heating, we strongly believe that proper maintenance and regular evaporative cooling service is essential for its optimal performance. We carry out the maintenance service as per the manufacturer's specification and also fix common evaporative cooler repairs such as blown motors, calcium buildups, broken belts and plugged lines in no time.
Heater Repair & Service Blackburn:
With extensive experience in the heating & cooling industry, we have delivered the heater repair experience to our esteemed customers. Our technicians know how to perform ducted heater service and keep your system running efficiently throughout its life.
Rinnai Hot Water System Blackburn:
Rinnai Hot Water System is known for supplying hot water as soon as you turn on the faucet. These water heaters come with advanced features and so, you need professionals to carry out Rinnai Hot Water installation, service and repair. We are trained to install and repair all models of Rinnai systems in both residential and commercial properties across Blackburn.
Whether you are considering a new air conditioning system or need maintenance system for your existing ones, feel free to call our team at 03 9357 5768! Let's help you keep all your heating & cooling systems running in great shape.