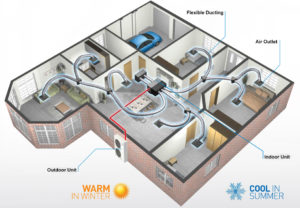 When it comes to meeting your heating and cooling demands, nothing can be more essential than choosing the right system for your space. Whether you are considering a new Daikin Air Conditioner or need maintenance service for your current system, you can count on Facilities Cooling & Heating. We take pride in providing a wide range of services including, split and ducted air conditioning installation, repair and maintenance services to our customers in Beveridge & across Melbourne. We make the right decision for your facility, ensuring that you always remain comfortable in your home or workplace.
Split System Beveridge :
We are qualified technicians who specialise in split system installation, repairs, and service. Our split system services are available for all makes and models at reasonable prices. From emergency split system repairs to periodic maintenance, we undertake everything and help to keep your air conditioning system running in tip-top condition.
Evaporative Coolers Beveridge :
Evaporative coolers work on a technology that uses fresh air from outside to cool your property inside. At Facilities Cooling & heating, we provide evaporative cooling installation, repair & maintenance service as per manufacturer's specification. So, you can expect your system to function optimally for years to come.
Heater Service & Repair Beveridge :
As your heating contractor of choice, we provide heater repair and service, ensuring that you are always at ease in your home or office. From choosing the right heating system to installation and repair, we perform everything to the highest standard. We also provide heater service as per manufacturer recommended maintenance schedule, ensuring that your systems continue to provide the utmost comfort for a long time.
Rinnai Hot Water System Beveridge :
If you are in the market for a new water heater, you can opt for Rinnai Hot Water System that can supply an unlimited quantity of hot water in no time. We will take your budget and requirement into account and determine the best size for your home. From Rinnai Hot water installation to repair and maintenance, we take care of everything in a professional manner.
No matter what your cooling & heating demands are, give us a call at 03 9357 5768 and we will be happy to help you.