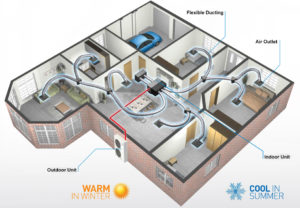 No one wants to deal with the hassle of a cooling or heating problem, especially when the weather is unkind. You want your air conditioning unit to work properly and keep your place comfortable and welcoming. Whether you have a problem with your older A/C unit or looking for a new system to replace the older one, you can rely on Facilities Cooling & Heating for prompt and affordable services. Serving homeowners and businesses in Bellfield & Melbourne, we specialise in Daikin air conditioner and heating systems. Our technicians help you with both ductless and ducted air conditioning installation, repair and maintenance.
Split System Bellfield :
If you are looking for a professional to assist you with split system installation, we can help. We strictly adhere to the manufacturer guidelines and install your cooling unit precisely. Our certified technicians have extensive experience in performing split system repair and can even help you with designing a customised split system service schedule to keep your unit running smoothly for years to come.
Evaporative System Bellfield :
Evaporative cooling systems are entirely different from typical air conditioning systems. To keep it running efficiently for years, you need experts who are acquainted with these systems. Here at Facilities Cooling & Heating, we are specially trained to perform evaporative cooler installation as per industry guidelines. We also provide scheduled evaporative cooling service that helps keep your unit running at its peak efficiency. When handling evaporative cooler repairs, our professionals pay close attention and get the problem solved quickly.
Heater Repair & Service Bellfield :
We have lots of experience in Rinnai Hot Water Installation and are trained to handle a wide variety of heater problems. Whether you have a problem with your water heater or space heater, we can get them fixed quickly and efficiently. Our technicians come to your place and inspect the unit to determine what has led to the heater repair. Based on our findings, we come up with a customised heater service plan and make your heating unit run like new.
If you have any question for us, feel free to contact our team at 03 9357 5768. We are more than happy to address all your queries.