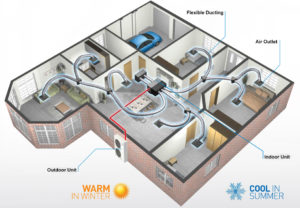 Facilities Cooling & Heating is dedicated to providing the best HVAC solution for businesses and households in Alphington & across Melbourne. With years of knowledge and extensive experience in the industry, we are able to provide a solution that fits your unique needs. Our team of designers and engineers can design and build a ductless or ducted air conditioning system as per your specifications. In addition, we also perform air conditioning installation, repair, and maintenance for all makes and models.  Being an authorized dealer for Daikin Air Conditioners, we even help you with choosing the right unit for your home or office.
We Are Specialised In:
Split System Alphington:
Perfect sizing and seamless installation are the key factors to the proper functioning of your air conditioning system. For split system installation, repair, and maintenance services, you can trust the trained professionals at Facilities Cooling & Heating. To keep your unit running in peak condition, we provide split system maintenance that involves inspecting and upgrading all the key components. When it comes to split system repair, we will fix the issue quickly, assuring the peak efficiency of your unit.
Evaporative Cooler Alphington:
Equipped with advanced tools and technology, we are committed to making your evaporative cooling installation & repair as convenient as possible. Our qualified technicians work around your schedule and complete the evaporative cooler repair without any disruption. We also provide evaporative cooling service as per manufacturer recommended schedule, ensuring lower energy consumption and higher efficiency of your cooling unit.
Heater Repair & Service Alphington:
At Facilities Cooling & Heating, we are qualified to perform a heater repair and maintenance service. Our heater services are available for all types of heating systems including, natural gas heaters, electric furnaces, hot water boilers, heat pumps and so forth.
We also provide Rinnai Hot Water installation in accordance with the manufacturer's guidelines.
So, if you need professional care for your heating & cooling systems in Alphington community, don't hesitate to call our team at 03 9357 5768. Let's help reduce service emergencies!